Farewell to a Legend: Al Troth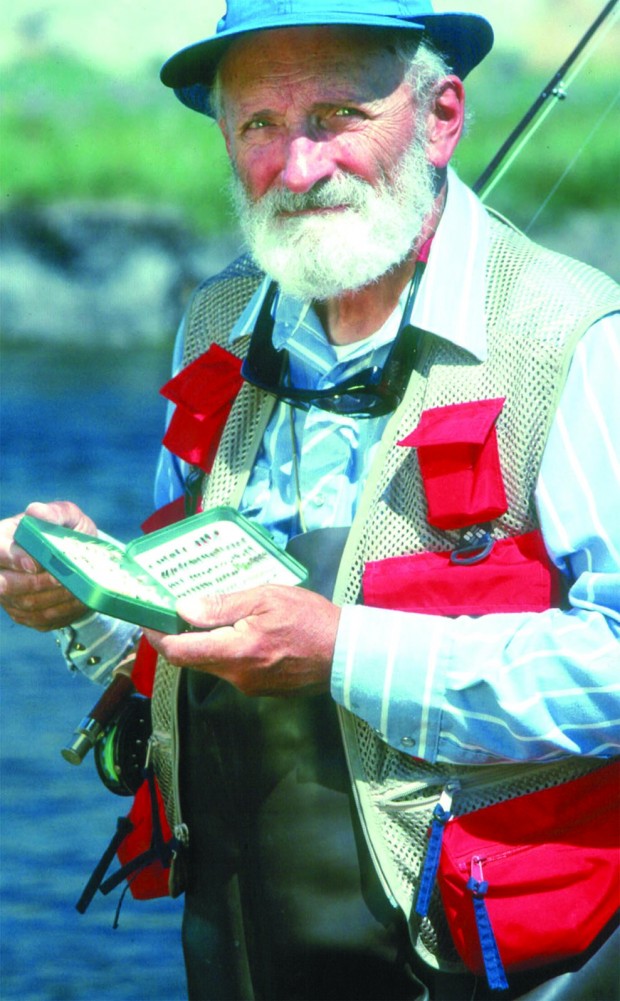 Al Troth, creator of the Elk Hair Caddis, and fly-fishing legend passed away at the age of 82.
From the Montana Standard: 
August 16, 2012 12:00 am  •  By John Grant Emeigh
BUTTE — There's a point when a man can turn a simple hobby into an intricate form of art.
By being meticulous, innovative and creative, the late Al Troth took every aspect of fly fishing to a rarified stratum. To Tim Tollett, Troth was more than just a fishing buddy. He was a teacher and a mentor.
"He taught me all the nuts and bolts, all the tricks. He could just raise hell with those trout," Tollett said.
Alfred Carl Troth, of Dillon, left the world and his beloved fishing holes on Aug. 3. He was 82.
But those who knew him — either personally or by reputation — say his influence on the sport of fly fishing should last as long as the snow-packed mountains feed the trout-laden rivers and streams.
Check any fly fisherman's fly box and it's likely you will find a bit of Troth's legacy. In 1957, Troth designed one of the most definitive dry-fly patterns of all time — the elk hair caddis.
Chris Bradley, who is co-owner of The Stonefly Fly Shop in Butte, says the elk hair caddis remains one of the most popular fly patterns since it was first designed more than 50 years ago.
"It's such a versatile pattern. It's tried and true and a must-have in your fly box," Bradley said.
Its genius comes in its simplicity: A little dubbing for the body, some hackle to give it bulk and elk hair for the wings.
"He designed it as an emerger (a fly that floats just beneath the surface of the water)," Tollett remembers Troth telling him.
But elk hair is hollow and it floats well on top of the water. It has since proven to be one of the most effective dry flies ever developed.
Troth started selling his caddis at Bud Lilly's Fly Shop in West Yellowstone. Lilly said that Troth's caddis was an instant success. While there were other caddis patterns on the market at the time, Troth's was much more effective for Western waters.
Tollett, who has been operating Frontier Anglers Fly Shop in Dillon since 1980, first met Troth in 1977. He just went to Troth's house in Dillon and introduced himself. Tollett was 21 and in Dillon to attend college. Instead, he attended the University of Al Troth.
"He was my mentor in fly fishing and taught me everything about the business," Tollett said.
He started guiding for Troth before opening his own business a few years later. He still recalls Troth's business lesson all these years later: Don't spend more than you take in.
And it's worked.
"You can take four years of classes at the college just to learn that," Tollett said.
Troth grew up in Pennsylvania and worked as a metallurgist for Pittsburgh Steel, as an industrial arts teacher and was considered a master craftsman. He also had the reputation as a fantastic outdoors photographer. Tollett marveled at Troth's innovative approach to getting the job done.
"He'd find the simplest way to do something and then do it," he said.
He was a pioneer in photographing trout under the water.
"He'd put a camera in a Plexiglas box and take underwater pictures," Tollett said.
The man's skills as a fisherman were just as creative and sharp as his craftsmanship. Tollett would often fish with Troth on the Big Hole River, which was one of Troth's favorite places to fish. The pupil always learned from the master.
"I always took something away from him when we went fishing together," Tollett said. "He made casts that are still not in the books or captured in video."
Troth's son, Eric, said his father was dedicated to "practical perfection," and he enjoyed the privilege of watching his father work.
"He was acutely attentive to the details of functionality as well as aesthetics. Seeing his ongoing commitment to excellence will be perhaps one of his greatest legacies in my life," Eric Troth said.
Al Troth was known for appreciating the traditions and history of fly fishing. Troth always made a point to give credit to all the past fly tiers and the flies they developed.
Tollett hopes future generations will appreciate him and will get the respect of other legendary fisherman like George Grant and Dan Bailey.
"He was quite a person who definitely deserves recognition," he said. "He was the father of many things."
By

Big Hole Lodge

on Friday August 17th, 2012
Categories
Stream Flow
Observed at Maiden Rock monitoring station.
Flow (CFS): Ssn
Gauge Height (ft): Ssn
Updated: 12/29/2016 8:12am